By Sian on Oct 03, 2013 with Comments 1
I made this last night with my kids and they were begging for more. This was the best Chinese Food I have made at home and it will definitely be a staple moving forward. I got the recipe from Six Sisters but the orignal just asked for way too much sugar and fat so I lightened it right up and there was no complaints!
Ingredients:
Chicken:
4 boneless, skinless chicken breasts
Salt and pepper to taste
1 cup cornstarch
2 eggs, beaten
canola oil spray
Sweet and Sour Sauce:
1/2 granulated sugar
4 tablespoons ketchup
1/3 cup rice vinegar
1 tablespoon low sodium soy sauce
1 teaspoon garlic salt
Directions: Preheat oven to 325 degrees.  Cut chicken breasts into bite-sized pieces and season with salt and pepper.  Place cornstarch and beaten eggs in separate bowls.  Dip chicken into cornstarch then coat in egg mixture.  Heat oil spray in a large skillet over medium-high heat and cook chicken until browned.  Place the chicken in a 9 x 13 greased baking dish.  In a medium sized mixing bowl, whisk together sugar, ketchup, vinegars, soy sauce and garlic salt.  Pour over chicken and bake for one hour.  Turning every 15 minutes or so.
Initially I didn't think I would have to bake the chicken for so long but you do so the sauce can really be soaked into the chicken.
Serve with rice or noodles and a side vegetable.
So good.  Make it for dinner tonight!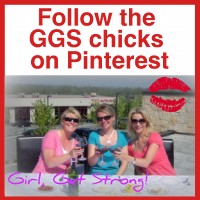 About the Author: I am a gym junkie but always find myself looking for new ways to stay active. You can usually find me hanging with my 2 kids at the soccer field, ice rink, dance studio or swimming pool. Other than that, I am usually at my computer, watching ellen, or making some fab dish for my hubby.
Comments (1)